Are you considering a whole house renewable solution?
This customer contacted us to help them transition their home into a greener and less pollutant place to live. This property started off as a solid stone wall barn conversion and was in great need of a renovation. Our task was to put together a whole house renewable solution to power and heat the property all year round. The home was heated with an oil fired system boiler with an open vented hot water cylinder. The clients ambition was to be as self sufficient and as close to off grid as possible.
Air Source Heat Pump: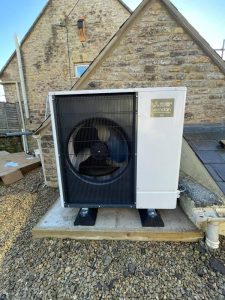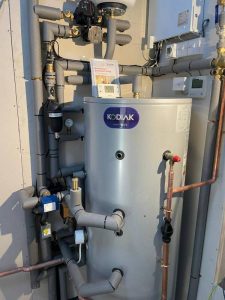 The first task was to do away with the dirty oil fired boiler. We selected an 11.2 KW Mitsubishi Ecodan Air Source Heat Pump, as this property was undergoing an extensive renovation we advised the client to improve the thermal efficiency of the external walls by internally insulating to help retain the heat to further increase the efficiency of the Air Source Heat Pump system. The new heating system would consist of an underfloor heating system to the ground floor and a radiator circuit on the first floor. Due to the increased thermal values of the property we were able to maximise the efficiency of the heat pump by oversizing the radiators meaning we could set a maximum flow temperature of 45 degrees.
Solar PV system:
Fantastic the house no longer relies on oil for cooking or heating. However, the second part of this project was to reduce the clients reliance on the Grid and lower the running costs. What better technology for this than Solar PV?                                                                                                                                                          We installed a 4.4 kW solar PV array and a huge 34.8 kWh Solax Battery Storage system. The Solar system is estimated to produce an impressive 3777 kWh of free electricity each year. While impressive, without battery storage a large portion of this power would be sent back to the grid. By installing a large battery store we maximized the free energy we generated from the sun. The other added bonus of a large battery storage is cheap over night electric. The client can charge his batteries up using off peak electricity tariffs overnight and use this power during the day when electricity price are higher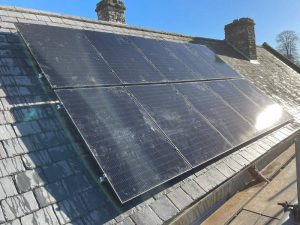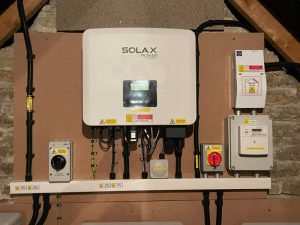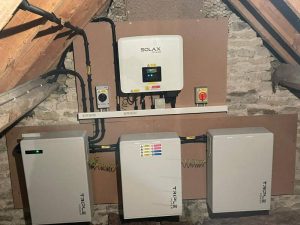 The outcome of this project.
Estimated savings of £1267 per year
4977 kg reduction in carbon emissions yer year!
Improvement on EPC rating from E41 to B96!
Warmer and more comfortable living environment.
Safer and less pollutant home that is less reliant on the Grid.
If you would like to understand more about how Heat Pumps and Solar panels might benefit your home please follow the link to the Energy Saving Trust website or Contact Us today and our team of renewable energy specialists would be more than happy to help.
[contact-form to="Info@magnarenewables.co.uk" subject="Renewable Energy Enquiry"][contact-field label="Name" type="name" required="1″][contact-field label="Email" type="email" required="1″][contact-field label="Phone number " type="text" required="1″][contact-field label="Message" type="textarea"][/contact-form]