Save up to 70% off your energy bills with the latest solar panels

Award-winning solar PV installers for your office, warehouse or factory

Reduce the environmental impact and carbon footprint of your busines
Commercial solar panels for your business
The cost of running a business can be quite hefty, especially if your electricity usage is high. Not to worry, there is one way to lower those outgoings. By switching to a renewable energy source, as a business owner, you could save money on your energy bills. By running your business on solar energy your business can reduce exposure to unexpected price hikes in the energy sector.
By installing solar panels on your commercial space, this proves that you can operate sustainably and reduce your business's environmental impact.
The free energy harnessed from solar panels during the day can be stored for use at night, if your business requires it. All manner of machinery, computers and EV chargers for your workforce or customers can be powered by commercial solar panels.
Regardless of the size of your business, there is a commercial solar panel solution for you. Examples of workspaces that could benefit from solar panel installation include; offices, factories, warehouses, educational institutes, hospitals, retail and agricultural buildings. The list is endless.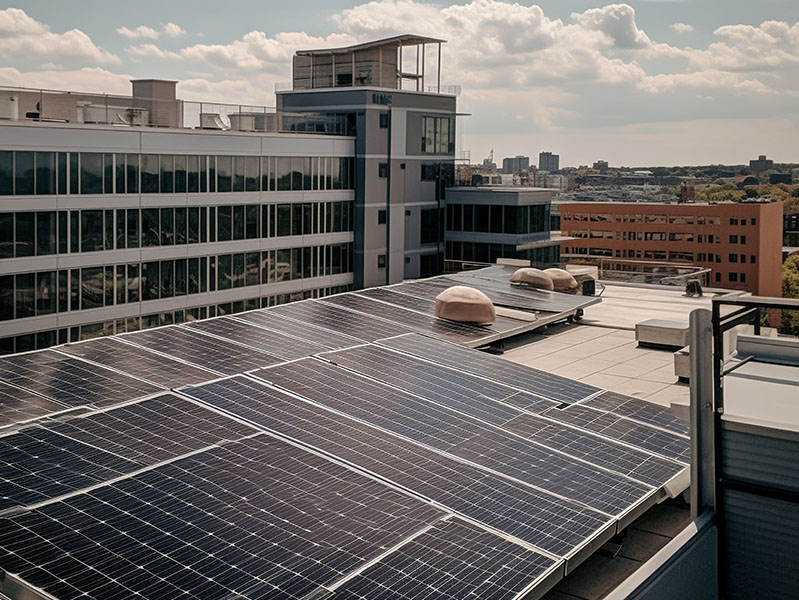 How can my business benefit from commercial solar panel installation?
Cut electricity costs
Your business will be running on free electricity if you choose to install solar panels on your commercial property. Therefore, your need to rely on electricity from the National Grid will be greatly reduced.
Smart Export Guarantee (SEG)
If you find that your business generates more solar energy than you can realistically use, it is possible to sell back electricity to the National Grid. Whether you have any surplus energy leftover is dependent on your business' energy consumption.
Future-proof your business
The on-going price hikes from energy companies are of constant concern to business owners. Save yourself the worry and install solar panels on your commercial property. Your business will be protected from the threat of hefty energy bills and your commercial property will become a more valuable asset.
Reduce your carbon footprint
Prove to your customers and partnerships that you are an eco-conscious, innovative business owner by relying on a renewable energy source. Generating solar energy will reduce your carbon footprint and clearly demonstrate your commitment to environmental change.
Points to consider when installing commercial solar panels
Installation costs
Exact installation costs are dependent on your commercial property size, equipment needed and the quantity of products required. For example, if scaffolding is necessary to access your property, this will impact the time it takes for our installers to complete the work. Feel free to contact us, we will be happy to help with any queries and can provide an accurate quotation.
Maintenance costs
The good news is that commercial solar panels require very little maintenance, once installed. General cleaning of the solar panels is recommended to remove any debris that may inhibit optimal performance. Hiring a professional cleaner to help you will be a good idea if your commercial property is on the larger side. For your piece of mind, we also recommend that you get your solar panels checked over every 4 or 5 years by an industry professional.
Planning permission
Whilst installing solar panels on your commercial property is allowed without planning permission, there are a few exceptions. You must obtain planning permission if your commercial property is a listed building or if its location requires it. If in doubt, check with your local council or get in touch and we can enquire about this for you.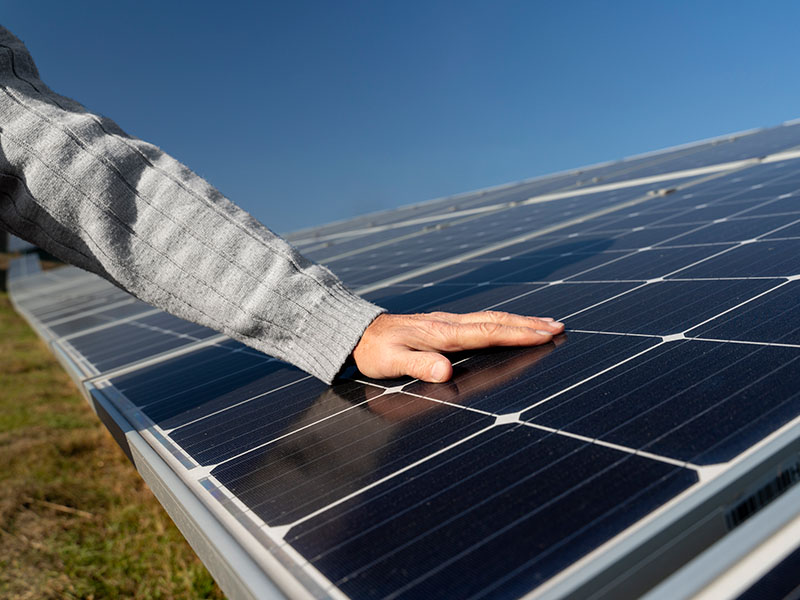 Are Solar panels right for your business?
In order to get the most out of your solar pv cells your roof should face between east and west.
Your roof must be structurally sound to support the additional weight of the solar panels and mounting hardware.
Your roof should receive as much sunlight as possible throughout the day. Shadows from other buildings or trees can reduce the amount of electricity your solar panels produce.
In order to get the most out of your solar pv cells your roof should face between east and west.
Get a free, no obligation quote for your solar panel installation today
Our team of expert solar panel installers is on hand to answer any questions you may have. If you are thinking of getting solar panels for your business premises then call us and we will explain the entire process with you. We will give you a free, no obligation quote and give you the opportunity to ask us any questions you may have.